Thank you for joining me here at Sports Obsessive. Today, we're going to be taking a trip down memory lane to revisit the eventful career of WWE alumni, Eugene; from being introduced to us as Eric Bischoff's nephew to finding a friend in WWE royalty, The Rock.
Eugene accomplished so much more in the WWE than many may have expected.
Who Was Eugene?
The Eugene character was inspirational in the sense of the type of personality that he had. Eugene wore his heart on his sleeve. Eugene loved wrestling and knew pretty much everything that there was to know about the history of professional wrestling. The downside was that the Eugene character was borderline offensive as it was the portrayal of somebody who suffered from a special needs syndrome.
Nick Dinsmore played the character in such a way that he made you fall in love with Eugene and want to cheer him on. Overall, I feel that Eugene was quite an important character to have in wrestling in this period, and having him succeed in the long run was a memory that many wrestling fans, myself included, will never forget.
Eugene's WWE Debut
Eugene made his first appearance on WWE TV on the April 5th edition of Monday Night Raw in 2004. Eric Bischoff, who was the General Manager of Raw at the time, had invited William Regal to the show to manage a new WWE Superstar. Bischoff's description of the new WWE Superstar was that he was 6ft1', 240 lbs, in his 20's, and that he was a very 'special' talent. Regal was impressed and was eager to meet the new WWE Superstar that he would shortly begin working alongside. Eric Bischoff then burst Regal's bubbles just a tad my mentioning that this WWE Superstar was his nephew and he did not want to offer him a WWE contract but he promised his sister that he would. Bischoff then said that this Superstar's name was Eugene Dinsmore.
Getting Acquainted with William Regal
William Regal was delighted with the news as he thought that all he had to do was manage Eugene to be welcomed back to Monday Night Raw on a full-time basis. What we saw next was a falsely courteous William Regal searching near and far in the backstage area for Eugene. After looking around and asking crew members if they'd seen Eugene, Regal thought he'd begin to call out the name. As he did, a second voice echoed over Regal's until William Regal and Eugene Dinsmore stood face to face for the first time. Regal was in disbelief. Stood in front of him was indeed a 6ft1', 240 lbs man, but a child-like man. Eugene's mannerisms were similar to that of a toddler as he chewed on his fingers and had an untidy handwritten note on his jacket stating 'Hello, my name is Eugene'.
Regal felt he had to have a word with Bischoff after his encounter with Eugene. Regal was irate and was ready to shine up his set of brass knuckles ahead of his second meeting of the night with Bischoff. Regal walked Eugene to the GM's office and left him outside as he dealt with 'Uncle Eric'. As Regal spouted off at the mouth towards the Raw GM, he was swiftly stopped to ask where he left Eugene as Eric Bischoff's nephew was never to be left unattended. Regal, confident, promised Bischoff that Eugene was just outside the door and wouldn't you know that when they checked, Eugene was gone.
A member of WWE's backstage personnel then told Bischoff 'your nephew is on TV.' Eugene had scurried out to the arena and was excitably introducing himself to the broadcast team of Jim Ross and Jerry Lawler. Just moments after being exposed to the tens of thousands of WWE fans, Eugene began imitating The Bushwhackers and began licking Jerry Lawler's face. Without a moment's notice, an angry William Regal came to Jerry Lawler's rescue as he apologized profusely and dragged Eugene backstage. The WWE fans had received their first taste of Eugene and I'm not sure they quite understood what they witnessed. Regardless, Eugene became a fan favorite as time went on.
The Rock Saves The Day
In 2004, I was 14 years old. Now I'm grey but that's neither here nor there. I liked Eugene. He was a happy-go-lucky man-child who loved wrestling with all his heart. Although he was dubbed 'special', he was just a man who wanted to get into the ring and partake in the same activities that all of his wrestling heroes did, which he did very well. Then Jonathon Coachman, aka 'The Coach', showed up on the scene to spoil Eugene's party. There were two wrestlers that I hated with a passion when I was in my early teens. They were John Bradshaw Layfield and The Coach. The Coach did everything he could to disparage Eugene and tried to force him to leave the WWE. What a bully! On one episode of Raw, The Coach had Eugene in the ring and he was belittling him with no end in sight.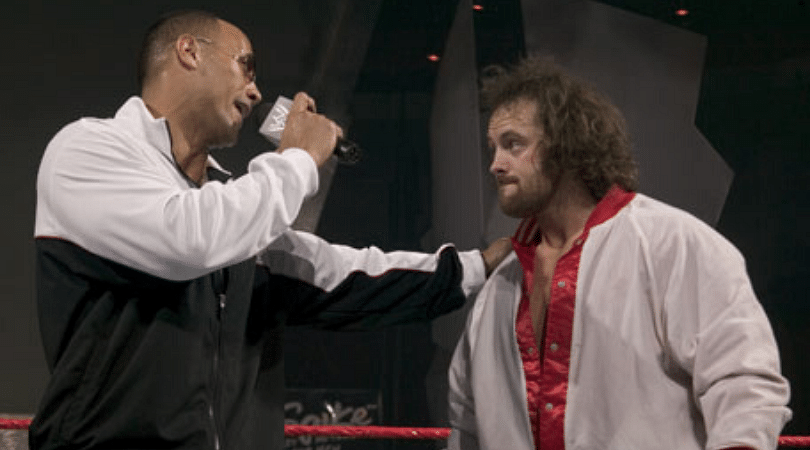 Coach went on to insult Eugene by sayings things like 'nobody wants you here', despite the WWE fans going nuts for Eugene. Coach went on to embarrass Eugene by saying that he had 'no friends' and assumed he 'never had a girlfriend'. Now look, I get it. I understand the concept of wrestling but to this day, I cannot watch anything that The Coach is involved in. I suppose that means that he's a damn good heel but I don't feel like getting into that right now. Coach forced Eugene to leave the ring and 'never come back'. As Eugene slowly walked away from the ring with tears in his eyes, Coach continued to berate him. Eugene go to the top of the ramp and looked around one last time to all the fans that wanted him to stay. Just before Eugene walked through the curtain, the day was saved by a returning Dwayne 'The Rock' Johnson.
Feuding With Triple H
Eugene's feud with The Coach led to the Bad Blood 2004 event in which Eugene participated in his first pay-per-view match and successfully defeated The Coach. Shortly after Bad Blood, Eugene got the chance with yet another wrestling legend, Triple H. The in-ring promos that were generated throughout this time were so incredibly entertaining and if you happened to miss out on this era of wrestling, I highly recommended that you subscribe to the WWE Network and get on it. You won't regret it.
Eugene ended up having a match with the multi-time Champion at SummerSlam 2004, followed up by a No Disqualification match two weeks later and a Steel Cage match the next week that ended the feud. Nobody ever expected Eugene to win these matches back to back, but he did however win the No DQ (via interference by Randy Orton). The opportunity for Eugene to rub shoulders with Triple H did him the world of good and helped to get the backing of the fans.
We all love a good underdog story, don't we?
Winning the World Tag Team Championships w/ William Regal
As time went on, Eugene began feuding with his uncle. Eric Bischoff. This particular feud culminated in a match at WWE's first virtually interactive pay-per-view event, Taboo Tuesday. The match was a Hair vs Hair match and Eugene went on to defeat his uncle (with an assist from WWE Chairman, Mr. McMahon). As per the match's stipulation, Eugene celebrated by shaving his uncle's head. Now that Eugene had a few entertaining feuds under his belt, it was only a matter of time before he held Championship gold in the WWE, right?
This monumental moment in Eugene's career came about on a November episode of Raw in 2004. Eugene tagged with William Regal to challenge for the WWE World Tag Team Championships against the Champions at the time, Sylvan Grenier and Rene Dupree aka La Resistance. Eugene and Regal won the match and, subsequently, the Championships. Eugene had made it.
Winning Kurt Angles Olympic Gold Medals
Eugene returned to the WWE in July 2005 after suffering an injury that caused him to lose his Championship. At the time, Kurt Angle was holding a regular ' Kurt Angle Invitational' and Eugene happened to accept the challenge on this occasion. This match with Angle stipulated that the prestigious Olympic Gold Medals were on the line because Angle was just that confident.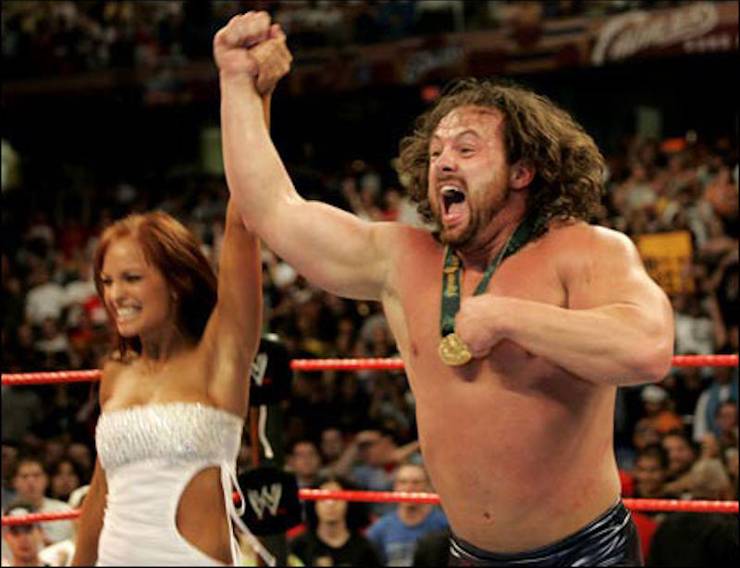 Well, you're in for a shocker because Eugene managed to win this match and was now in possession of Kurt Angle's pride and joy. Angle then chased Eugene for the next month. The two found themselves in a match at SummerSlam 2005 in which Angle won back his Olympic Gold Medals. The exposure that Eugene was getting at this stage in his career was unprecedented and factored into the lasting impact that Eugene left on us fans.
The Final Years
Towards the end of Eugene's WWE tenure, we saw him participate in the 2006 Royal Rumble. Then, in the pre-show Battle Royal at WrestleMania 22, Eugene went on to form a Tag Team with WWE Legend Jim Duggan. Although they tried, they never won the gold as a unit. When we look back, it seems that the last year or two of Eugene's career was shattered. Eugene did manage to accomplish a feat that not many WWE Superstars can say, that is he successfully defeated Vince McMahon. Eugene faced Vince and Shane McMahon in a two-on-one handicap match and, thanks to the newly reformed D-Generation X, Eugene can forever say that he defeated the CEO of the World Wrestling Entertainment.
Final Thoughts
When you look back at Eugene's WWE career, you may love him or you may equally hate it. In my opinion, there's nothing to hate. Nick Dinsmore successfully pulled off a character that not many others could. Eugene drew empathy, compassion, and general emotion of true support from the WWE fans. The fact that Eugene was a trivial genius when it came to wrestling history, only to go on to share the ring with some of the industry's biggest names, is a heart-warming story in and of itself.
What did you think of Eugene and what is your most memorable Eugene moment? Let us know in our comments on the site and let us know on Facebook / Twitter @SportsObsessive.
Thank you once again for joining us!