Thank you for joining us here at Sports Obsessive! Today is all about one of the WWF's most popular stars during the 'Attitude Era', Crash Holly.
When you cast your mind back to the WWE's Attitude Era, who comes to mind? For many, the answer to this question may be 'The Peoples Champion' The Rock, 'Stone Cold' Steve Austin, Triple H, The Undertaker, Mick Foley, Kane…the list goes on and on.
For me, one of the most pivotal characters on WWE TV back in the days of the 'Attitude Era' went by the name of Crash Holly. Today, I'm here to explain why.
Crash Holly's WWF Debut
Crash made his WWF debut on Raw Is War on August 16th,1999. WWF Superstar, Hardcore Holly was in the middle of the ring on that very night, unhappy with certain aspects of the business, feeling that he was being cornered and needed backup. To quote Hardcore Holly, he dubbed Crash as a 'Super Heavyweight' and informed the live audience and everybody watching at home that Crash Holly was his cousin.
Crash made his way down to the World Wrestling Federation ring for the first time and it was evident that this man was in tip-top shape. Crash was wide-shouldered and clearly ripped but his height did not match Hardcore's description of 'Super Heavweight'. Crash didn't need the extra height as the size of the chip on his shoulder was more than enough compensation during this era.
Crash confidently snatched the microphone from his cousin's hands and, without hesitation, began an in-ring promo against The Undertaker and Big Show, with whom Hardcore had been having issues. Crash went on to say that yes, Undertaker and Big Show had been dealing with Hardcore, but that he would prove to be more of a handful.
Crash then looked back at his cousin and arrogantly said to Hardcore Holly, 'no offence, huh kid'. If you don't know Hardcore Holly, he is not the calmest of individuals, which is why this exchange of words led to Hardcore throwing the first punch. The two then proceed to fight throughout the audience.
What a way to make a first impression!
Crash Holly: Portrayed by Michael Lockwood
Crash Holly was portrayed by Michael Lockwood and performed as a professional wrestler with the World Wrestling Federation between 1999 and 2003. Crash played a pivotal role in what is now known as the 'Attitude Era,' an era in which the WWF was truly the best wrestling promotion in terms of ratings, pay-per-view buys, merchandise sales, and mainstream popularity. Nowadays, if you were to ask a group of wrestling fans between the ages of 25-35 who may have grown up during this era who the standout star was, chances are you're going to hear names such as Stone Cold Steve Austin, The Rock, Triple H, Kane, Undertaker, Shawn Michaels; the list goes on.
However, a few will say Crash Holly. Crash Holly is a name that should be honoured in professional wrestling as this character provided some of the funniest moments of the 'Attitude Era'. Crash was basically a smaller version of his brash cousin, Hardcore Holly, with the same anger issues and temperament. Crash was also a goofy character. The thing is, Michael Lockwood played the Crash Holly character so well, that, as fans, we believed that he believed in everything he said on TV.
The thing that I remember most about watching Crash Holly when I was growing up was, when Crash moved over to SmackDown, he would carry a scale with him as he'd walk to the ring. His reason for this was that he would weigh himself to 'prove' that he was indeed a 'Super Heavweight' weighing over 400 lbs. That in itself is comedic wrestling at its finest. Not only was Crash Holly humorous to watch but he proved that he had what it takes to become a Champion in the WWF, on more than one occasion.
Along with his hot-headed cousin, Crash managed to defeat the team of The Rock and Mankind aka The Rock 'n' Sock Connection, to win the World Wrestling Federation Tag Team Championships. Not only that, but Crash would also go on to win the WWF Hardcore, European, and Light Heavyweight Championships throughout his career.
Crash Holly was clearly a well-rounded professional wrestling star.
The Holly Cousins
So, at this point, we've established that Crash and Hardcore were cousins. This was clearly going down well, which was why another family member was introduced into the picture—Molly Holly. The Dynamic between Hardcore, Crash, and Molly was incredible! The trio came across as total badasses and was a force to be reckoned with.
By no means was Crash the leader of the gang. Hardcore Holly was the leader, followed by Crash, who had to take the brunt of Harcore's trash-talking. This meant that, at times, Crash would then talk down to Molly. These three performers made massive contributions to the 'Attitude Era', in my opinion, and I'm glad that I got to watch them do what they do best, week after week, as I was growing up.
Let's talk about the WWF Hardcore Championship. A lot of the time, when this Championship is brought up in conversation, Mick Foley comes to mind. That may be due to the fact that Foley was the first WWF Hardcore Champion, and that link is certainly justified. However, Crash Holly was a 22-time WWF Hardcore Champion. That was incredible back in this era. In my eyes, Crash Holly made the Hardcore division what it was.
Once again, Michael Lockwood's comedic mind came into play. Crash Holly fought for/defended the WWF Hardcore Championship, time after time, night after night, city after city. Not only this, but these matches didn't always take place in the WWF ring, which really added depth and character to the Hardcore Division as a whole.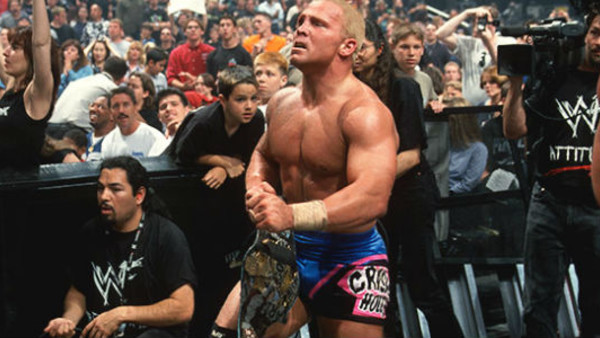 Crash would brawl backstage, in parking lots, even in shopping malls, just to be able to call himself the WWF Hardcore Champion. Crash was always winning and losing the Championship, which led to his 22 victories. It's a very familiar concept when you think about R-Truth and the 24/7 Championship. To date, R-Truth is a 52-time WWE 24/7 Champion, which is insane. Would R-Truth have been able to pull something like this off if it were not for Crash Holly and the WWF Hardcore division between 99′ and 03′? of course not.
Crash Holly is and forever will be a trailblazer and trendsetter.
Final Thoughts
Sadly, Michael Lockwood a.k.a Crash Holly passed away in November of 2003. Lockwood certainly left many fans around the world with memories from watching WWF that I know that I will never forget. To this day, I still have my first Crash Holly action figure that I purchased along with WWF Magazines that feature The Holly Cousins.
While he isn't celebrated today as much as he should be, Crash Holly left a huge mark on professional wrestling and will never be forgotten.
Do you have any favourite Crash Holly moments? Lets us know in our comments section or on social media @SportsObsessive!