October 28th, 2018 was a very special day within the realms of professional wrestling; this was the day that the WWE was set to host their very first all-women pay-per-view event, WWE Evolution. Now, in 2021, Evolution is tucked away in the WWE Network as a retired pay-per-view event and that needs to change once fans are allowed back in attendance.
For now, you can join me as I revisit the historic night that will forever be known as Evolution.
Evolution: The First-Ever WWE All-Woman Pay-Per-View
The show was a giant success and was hugely popular with fans worldwide. The card included WWE Superstars such as Nikki Bella, Becky Lynch, Charlotte, and Ronda Rousey. The card catered for fans of the current day product and for those looking for a hit of nostalgia.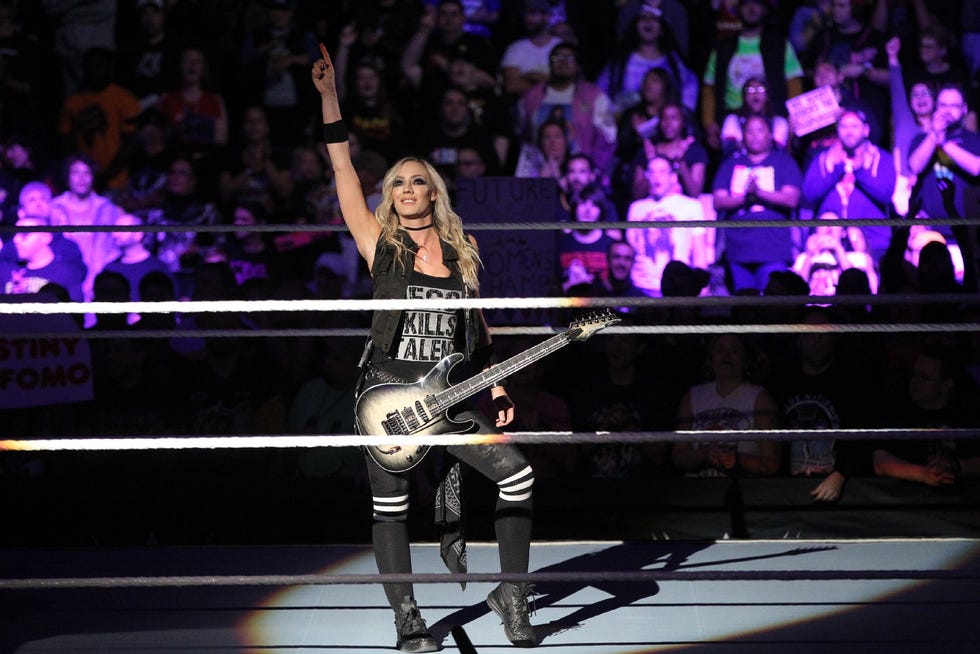 Before I get into this, I want to mention how incredible Lizzy Hale and Nita Strauss were during the opening of the show. These musicians shredded it up and got the fans amped up and ready to rock.
Evolution was already off to a great start.
Michael Cole welcomed us at ringside and was joined by Beth Pheonix and Renee Paquette who were ready to call the action. We were then directed towards the ring where legendary ring announcer, Lilian Garcia was in the middle of the ring, gearing us up for the opening matchup. It was incredible to see Lilian back with the WWE, given her history with the company.
Trish Stratus and Lita vs. Mickie James and Alicia Fox
The first match of the night was for those of us that cant escape the past. We were gifted to a Tag Team match that included two WWE Hall of Famers and former rivals, Trish Stratus and Lita. First of all, having Trish on this show was massive! Trish debuted in the very arena that this event was held in and it's always great to see WWE Superstars return and seemingly not missing a beat. The same thing goes for Lita. I'm almost positive that Lita hasn't aged since 2000; she must be some form of undead being, but that's another article completely.
Trish and Lita were teaming up to face off against another WWE Legend and future WWE Hall of Famer, Mickie James, who was tagging with Alicia Fox. If you are an old timer like myself, you'll remember that Mickie James debuted as an obsessed Trish Stratus fanatic who overstepped personal boundaries with Trish on Monday Night Raw back in the day. Since then, she has truly continued to pave the way for WWE's Women's Evolution.
These two women had an incredible rivalry and it was great to see them back in the ring together.
WWE Legends Trish Stratus and Lita, reunited as a Tag Team for WWE Evolution.
Lita and Mickie James started off the match and within seconds, the crowd was chanting 'Lita' at the top of their lungs. Sidenote: I'm rewatching this event during a Global Pandemic and just hearing the audience cheer for the wrestlers is giving me goosebumps—I cannot wait to go to a show again. Lita was single-handedly running this match and proved that she didn't even know the meaning of 'ring rust'. Soon enough, Trish tagged in and so did Mickie. These moments are what makes wrestling so great. The formal rivals went at it in an aggressive manner which resulted in Trish Stratus pulling off a huricanrana from the top rope.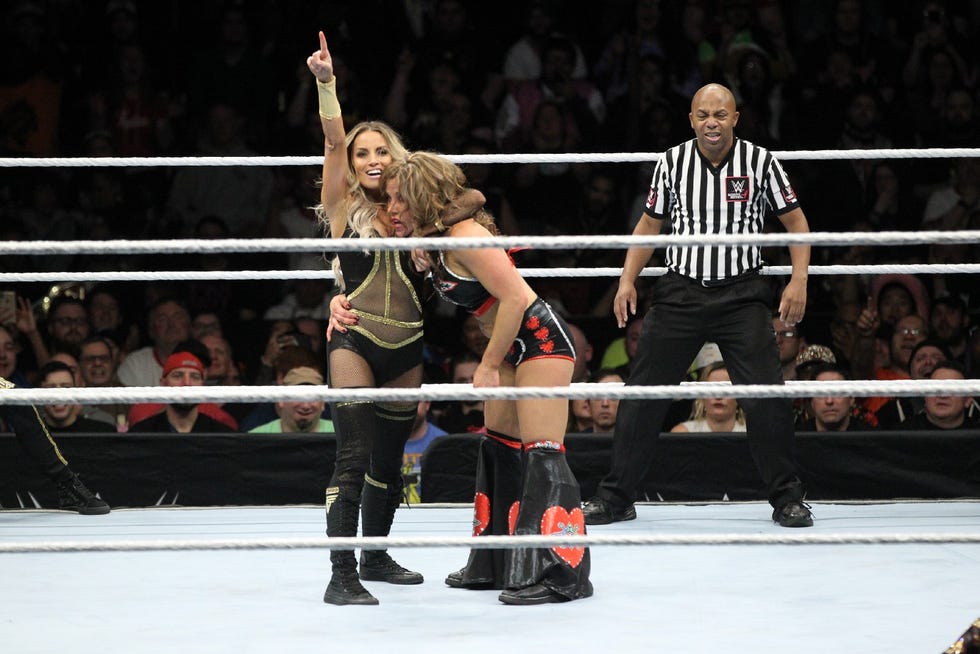 The story of this match was that Trish and Lita were being disrespected by the younger talent and were out to prove that they still had what it takes to stand their ground in the middle of the ring. Overall, this was a great match with an entertaining storyline. One thing to add is that Alexa Bliss was originally planned to be in this match but, due to an injury, Fox stepped in. Speaking of Fox, her crazy side shone through a number of times throughout this match but Trish and Lita had far too much momentum behind them to be slowed down.
The match ended after a Twist of Fate followed by a trademark moon-sault from Lita that allowed Trish to hit her signature Chick-Kick to pick up the victory. What an opening match this was.
Winners: Trish Stratus and Lita
Kayla Braxton Catches Up With The Bella Twins
Next up, Kayla Braxton met up with Nikki and Brie Bella ahead of the upcoming Raw Women's Championship match between Nikki Bella and Ronda Rousey. Nikki was fired up and had a few words for the former UFC star. Bella and Rousey were knee-deep in a very intense rivalry at this time and Rousey had vowed to 'end' Bella.
Bella went on to insult Rousey by dedicating the match to Rousey's mother. Prior to this show, Bella attempted to add fuel to the fire, so to speak, by declaring that Rousey's mother was ashamed of her. Looking back at this, I'm not sure that Bella had ever watched any of Rousey's fights in the UFC. Maybe she should have.
You don't want an angry Ronda Rousey chasing your tail.
The 20 Women Battle Royal, With The Winner Receiving A Future WWE Women's Championship Match
As the show rolled on, it was time for the Women's Battle Royal. This match was jam-packed with some of the greatest performers that the WWE has to offer.
As far as Battle Royals go, this was a good match. I'm not the biggest fan of Battle Royals as there's too much going on but then again, the Royal Rumble is my favourite pay-per-view. Go figure. Along with all the current day stars, we had a number of surprise appearances from the likes of Michelle McCool, Madusa, Kelly Kelly, Torrie Wilson, and Molly Holly. Yes, that's right, Molly Holly, also known as the greatest women's wrestler of all time, at least in my opinion.
Once the first eighteen participants of the match were in the ring, the final two, The IIconics, made their way down to the ring but had something to say first. Billie Kay and Peyton Royce were quick to insult the fans by insulting their accents, coming from a duo that has the strongest Australian accents that I've ever heard in my life. The IIconics were incredibly confident as they walked down to the ring, insulting every other woman in the ring, Needless to say, EVERYBODY teamed up and eliminated them immediately.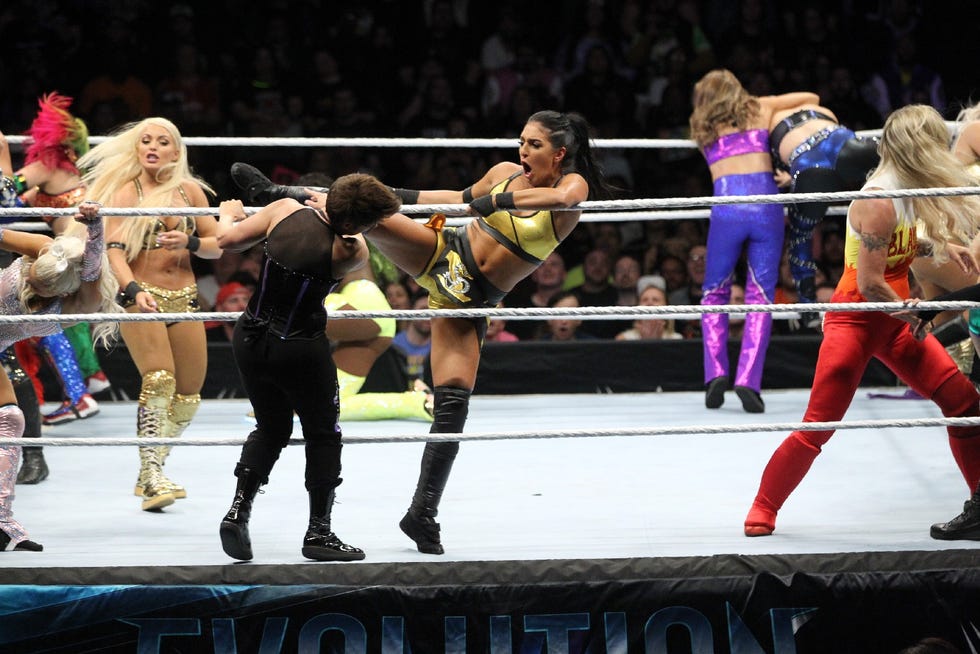 We then had a nice little past vs present moment before all hell broke loose. Overall, this was entertaining, even though Molly Holly got eliminated straight off the bat. The match dwindled down to Asuka, Ember Moon, Nia Jax, and Tamina as the final four. I will never get sick of seeing Asuka vs Moon, these two have such great chemistry. Moon wound up eliminating Asuka and continued to put on one hell of a show. Moon then eliminated Tamina and was left to conquer Nia Jax. At this point in time, Moon and Jax had somewhat of a friendship but, as we know, friendships go out the window in these types of matches. Before we get too excited at the possibility of Ember Moon going over, we need to remember that this is the WWE, which means only one thing—swerve time.
Zelina Vega reemerged after disappearing earlier in the match. It appeared that Vega was not thrown over the top rope, which meant that she was still a legal participant in this match. Vega became overwhelmed with emotion which led to Jax flexing her muscles and literally throwing Vega out of the ring. Goodbye, Zelina! After a very close call, Nia Jax ended this match by eliminating Moon to win the Battle Royal.
Let's not allow this to take away from Ember Moon's phenomenal performance.
Winner: Nia Jax
Mae Young Classic Final: Toni Storm vs Io Shirai
Evolution hosted the final of the Mae Young Classic Tournament. The finalists were Toni Storm and current-day NXT Women's Champion, Io Shirai. Jessica Carr, who at the time was an NXT referee, officiated this match.
This match felt like it was a massive deal and that's because it was. This match started off with Storm, who is a natural mat-based grappler, grounding 'The Genius of the Sky', Io Shirai. The story that was being told was that, in 2017, Storm made it to the semi-finals of the Mae Young Classic but did not go all the way. Storm was out to prove that she was the greatest wrestler under the WWE umbrella.
Toni Storm had made a huge impact on the British Wrestling scene before joining the WWE. Notably, Storm was the first PROGRESS Wrestling Women's Champion, Similarly, Shirai has an impressive history in her own right, including capturing the Joshi Puroresu Grand Prize in 2015, 2016 and 2017. It's safe to say that these two women were equally matched.
As the match kicked into gear, Storm was dominating via submission moves up until Io Shirai managed to perch herself upon the turnbuckle. Few WWE Superstars are as comfortable and as graceful as Shirai when atop the turnbuckles. Shirai had previously knocked Storm out of the ring and followed up instantly with a picture-perfect moonsault
This match was exceptional, with both women doing whatever it takes to become the winner of this prestigious Mae Young Classic Tournament. Having this match at the forefront of WWE's Women's Evolution was incredible. The audience was divided, which is always a good thing because it meant that both women were being acknowledged and appreciated for their efforts.
After a devastating clothesline to Shirai, Storm went for her signature Storm-Zero in hopes of putting this battle to an end but Io Shirai had far too much heart to give up. At this point in the match, it was hard to even begin to wonder which woman was going to win. Both women were giving it their all and in a desperate attempt, Shirai knocked Storm to the mat and made her way to the top rope once again. Storm hit yet another picture-perfect moonsault but this time, Toni Storm had enough wherewithal to lift her knees up just in time. As storm dug her knees into Shirai's ribs, she knew that this was her shot. Storm managed to get back up to her feet and successfully hit the Storm-Zero
After a testing challenge, Toni Storm had fought her way back to the finals of the Mae Young Classic and successfully defeated Io Shirai to earn her spot in professional wrestling history.
Winner: Toni Storm
The Riott Squad vs. Bayley, Sasha Banks, and Natalya
The next match of the night was a six-women Tag Team match. When you talk about star power in a match, this was the definition of the word. Of course, Sarah Logan is no longer with the company but I'm hopeful that we will see a return one day. Natalya has been a staple of the women's division for years and continues to mentor younger talent. Both Ruby and Liv are currently keeping the spirit of The Riott Squad alive on Friday Night SmackDown. Then you have Bayley and Sasha Banks. Bayley spent the majority of 2020 carrying the company on her back as the top heel and as SmackDown Women's Champion. Sasha Banks was heavily involved with Bayley in recent months and is the current, reigning SmackDown Women's Champion. All of these women have accomplished so much within professional wrestling.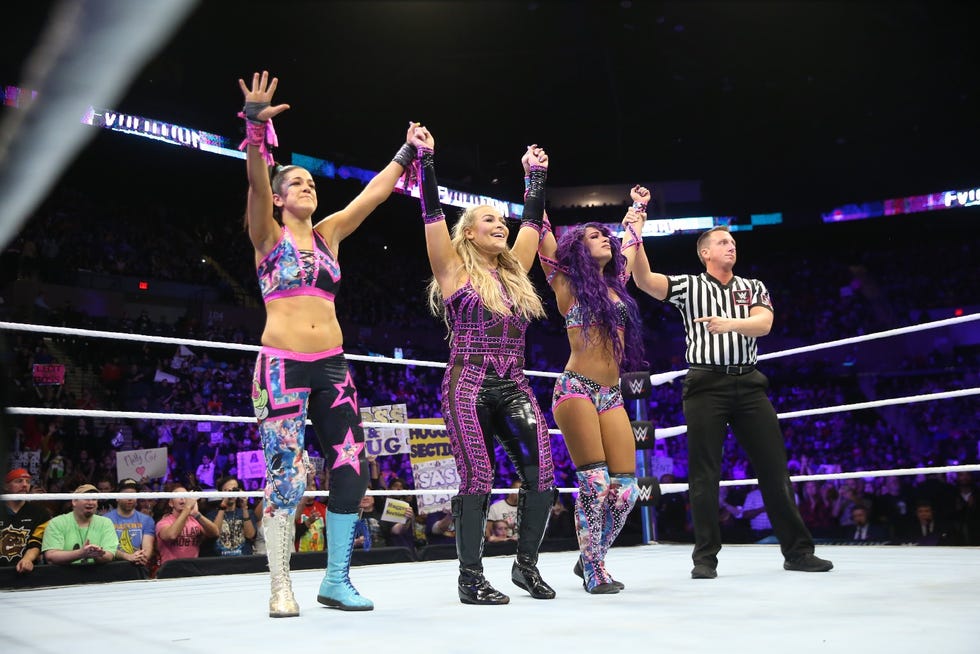 This six-women tag tam match was a great display of what the women in WWE have to offer. The Riott Squad was in the driver's seat during the opening moments of this match, with Sarah Logan holding her own against former NXT Women's Champion, Bayley. This match reminded me about how much talent Logan possessed. Luckily for Bayley, she managed to create an opening for herself amidst the Riott Squad's attempts to isolate their openness. The crowd then erupted as 'The Legit Boss', Sasha Banks, made her way into the match.
Banks hit a signature Meteora within a matter of minutes and continued to beat down the now-legal Ruby Riott. After a fast-paced, exhilarating matchup, Sasha Banks was the legal woman in the match. Natalya hit Liv Morgan with a powerbomb, followed by Bayley with an elbow drop from the top rope. Bayley then took out the rest of the competition with a suicide dive to the outside. Then it was 'Boss Time'. Banks was perched atop the top rope and hit Morgan with a dash of 'Latino Heat', paying homage to Eddie Guerrero with a Frog Splash that was enough to seal the deal and win the match at this historic, Evolution event,
Winners: Bayley, Sasha Banks, and Natalya
Kairi Sane (c) vs Shayna Baszler for the NXT Women's Championship
What a storyline these two women had. Baszler is a legitimate badass with a killer instinct in her blood. Baszler doubted that Kairi had what it took to defeat her. Kairi proved Baszler wrong at NXT TakeOver: Brooklyn in which 'The Pirate Princess' defeated Baszler to become the new NXT Women's Champion.
Baszler came into this match with the expected, brawler mentality but was met by a defiant Kairi Sane, who was ready to bring the fight directly, rather than relying on her aerial attacks. There was a short fight on the outside of the ring, where Baszler threw Kairi face-first into the steel steps. From this point on, Baszler's nasty side was openly on display.
Baszler targeted specific limbs, knowing that wearing down Kairi Sane bit by bit was the way to go. This match watch also the very first time that the NXT Women's Championship was defended on a WWE pay-per-view; the fact that this defence was at Evolution may have added extra pressure to the performers.
As the match went on, we continued to see the resilience of 'Captain Kairi' as she kicked back each and every time that Shayna Baszler manipulated her limbs. Mid-match, Kairi exploded with a spear that may have been a pivotal moment in this match. Next up, Kairi 'Walked The Plank' and promptly followed up with a swinging neck breaker, leaving Baszler down and out. As I sat at home watching this, I thought to myself ' I have never wanted to see a Japanese Pirate kick the s*** out of a former MMA Fighter more than I do right now.' This is professional wrestling.
Now, before we all get too excited with these pirate shenanigans, I have to add that Baszler's MMA pals, Marina Shafir and Jessamyn Duke, were in the crowd watching along. The reason I mentioned this is that both Shafir and Duke got physically involved towards the end of this match without the referee noticing, which led to Bayzler choking Sane out in the middle of the ring to reclaim the NXT Women's title.
Winner: Shayna Bayszler
Becky Lynch (c) vs Charlotte Flair In A Last Woman Standing Match for the WWE SmackDown Women's Championship
As crazy as this is going to sound, going into this match, Becky Lynch was the heel and Charlotte was the babyface. Talk about a role reversal. Becky was the brash, overconfident, SmackDown Women's Champion who recently turned her back on her friend, Charlotte. In weeks prior to this match, 'The Lass Kicker' made a number of to-the-point statements, including on an episode of The Cutting Edge with WWE Hall of Famer, Edge. Edge was trying to bring Becky down off the pedestal that she had placed herself upon by questioning why the change in her attitude. Becky simply responded by saying 'I love who I've become'.
Following this display of arrogance, Charlotte, the babyface in this scenario, decided to take the matter into her own hands and teach Becky Lynch a lesson in respect. The two fought it out in brutal brawls for weeks culminating in this Last Woman Standing Match for the SmackDown Women's Championship at Evolution.
As this match kicked into gear, it was clear that the story being told was that Becky was p*****off with the way in which she had been treated by the roster leading up to Evolution, and prior to her attitude adjustment. Becky found herself with a roadblock in the form of Charlotte Flair. The match got going and Becky came off strong during the first half. Becky knocked Charlotte to the mat long enough for the referee to begin the count. Charlotte made her way back to her feet but was then led outside of the ring, where she was whipped to oblivion with a number of hard-hitting Kendo Stick shots to the back.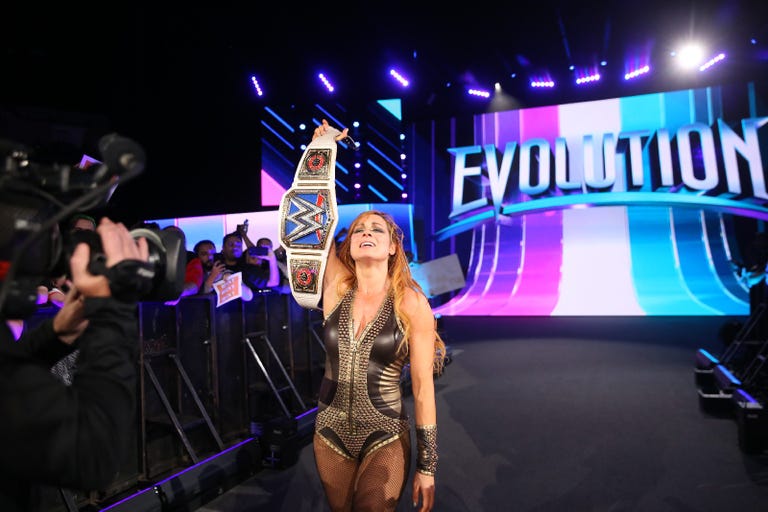 Soon after this, both women channelled their inner ECW and threw about twelve steel chairs into the middle of the ring. Needless to say, it wasn't long until one of these women were thrown onto the aforementioned steel chairs and Charlotte was first to take the bump. A few minutes later, Charlotte did get some payback as she planted Becky with a back-suplex onto the chairs. This didn't seem to affect Becky all that much.
However, not long after this, as Becky was setting up a table in the ring, Becky managed to place Charlotte onto the table but failed to smash 'The Queen' through the panel of wood. As professional wrestling logic goes, the one that sets the table goes through the table. That's exactly what happened as Charlotte hit a front-flip senton from the top rope onto Becky, who was prone on the table.
Later in the match, Charlotte managed to lock in her signature Figure-8 leg-lock submission through a ladder! The match approached its end with both women close to defeat as Becky propped Charlotte onto the announcer's desk and proceeded to dive off the top of a ladder with a leg-drop. Becky continued the assault and then literally buried Charlotte under broken fragments of tables and chairs. What a match this was! The battle finally ended after Becky hit Charlotte with a powerbomb through a table on the outside. Becky Lynch successfully retained her Championship!
Winner: Becky Lynch
Ronda Rousey (c) vs Nikki Bella for the WWE Raw Women's Championship
The main event of Evolution arrived, as 'The Baddest Woman on the Planet' Ronda Rousey was set to defend her Raw Women's Championship against Nikki Bella. Going into this match, Rousey was the babyface and had the majority of the crowd behind her., Things were looking good for the former UFC Women's Bantamweight Champion. Nikki Bella, who has accompanied by her sister, Brie was the heel and felt that Rousey had no right to hold the Raw Women's Championship. Nikki and Brie felt that they were the reason that women in the WWE were finally at a point where they were given the respect they deserved as athletes.
To a degree, The Bellas were right; they had been a part of the WWE for a very long time and had worked their asses off to get to where there were. At the end of the day, The Bellas were overly arrogant and 'Rowdy' Ronda Rousey was prepared to prove that she belonged in the WWE Women's Division. As this Championship match got going, Ronda Rousey had the upper hand against Bella, literally toying with the former WWE Divas Champion. Ronda was quick to test Bella's mental fortitude by showing Nikki that she could lock in her devasting armbar at any point in this match and end it whenever she chose to. This had to mess with Bella, given that, at this point in time, Ronda Rousey was undefeated in the WWE.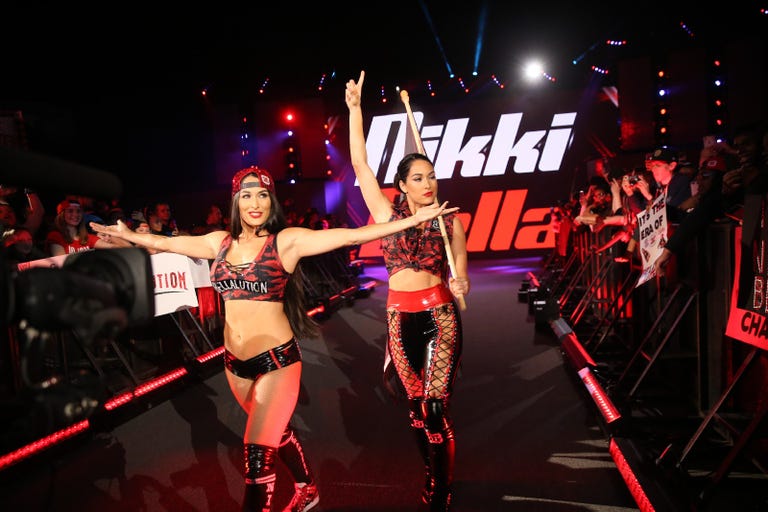 Luckily for Nikki, she had her sister Brie at ringside. This proved to be effective as Nikki managed to roll outside the ring, leading to Brie Bella getting physically involved when the referee's back was turned. From this point. Rousey seemed to be in trouble.
When you go back in rewatch this match, despite Bella being the heel, you've got to respect and acknowledge how great Nikki Bella was in the ring. This was truly a great Championship match. Ronda seemed to try and try but could not regain her strength. However, that was until Ronda's 'Rowdy' side was ignited.
Ronda seemed to switch and managed to get Nikki Bella atop her shoulders. At this point, Brie Bella began to fear that this may have been the end for her sister so she jumped atop the ring apron. Brie would have been better off staying in the backstage area because what happened next was the beginning of the end.
Ronda Rousey had both Nikk and Brie Bella atop her shoulders and inevitably drove both women slamming down into the mat. Just when you thought that Nikki Bella was down and out, moments later, she somehow managed to hit Rousey with the Rack Attack 2.0 and was seconds away from becoming the new Raw Women's Champion but Rousey kicked out! Expectedly, this sent Bella into a frenzy. Nikki needed to keep a level head but instead, she had a temper tantrum which led to Rousey locking in the armbar with Bella tapping out instantly.
No matter who the heel or the babyface was in this match, the performance that Ronda Rousey and Nikki Bella put in during this Championship main event was monumental. What a match! Is there a better way to close the first-ever WWE all-women's pay-per-view? I think not.
Winner: Ronda Rousey
Final Thoughts
From the opening bell to the closing bell, this show was nothing short of incredible. From Trish and Lita taking on Mickie James and Alicia Fox in tag team action to The IIIconic's delivering a comedic masterclass to Toni Storm and Io Shirao potentially stealing the show in the Mae Young Classic Finals, this show was exceptional. Its a shame that the WWE didn't follow up with an Evolution 2 in 2019. Hopefully, once the pandemic has passed, we fans can petition for Evolution to become an annual event. It's clear that the women within the WWE and NXT are the best of the best when it comes to what they can do in the ring. There you have it. I'm sure that you can tell that I thoroughly enjoyed this show. What did you think? Let us know in the comments and on our social media on Twitter/Facebook: @SportsObsessive.
Thank you once again for joining us!